Playing in the Snow
The corridor along Interstate 80 over Donner Summit offers a wide variety of choices for snow play. A number of ski resorts and other facilities have developed tube sliding hills with carpet conveyor lifts to carry sliders to the top of the hill. Some charge for a 2 hour session (which many find plenty for young children and even adults), while Soda Springs offers an all-day pass to their tube hill.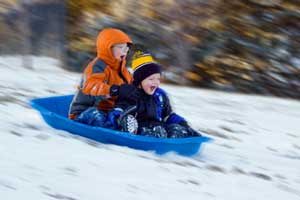 Many prefer to seek out their own sliding hills or snow play areas in the national forest. One good choice is to take advantage of the Sno-Park at Donner Summit. A good number of other locations suitable for snow play have been identified by the Forest Service and are listed below.
A few areas along Interstate 80 are posted for no snow play. Be sure the area you select is not private property and that you park legally. Parking is usually much easier several days after a recent snowfall when plows have had a chance to clear the snow.
Donner Summit Sno-Park
Donner Summit Sno-Park at Donner Summit is a good place to take children to play in the snow. Unlike most other spots along the highway, you can be sure the lot will be plowed and there are restrooms available. The Sno-Park is at the Boreal ski area turnoff, near the Pacific Crest Trail parking area.
Sno-Parks are parking areas maintained in the winter to allow people to park safely and pursue winter activities such as cross-county skiing or snow shoeing. They have pit toilets available. To use a Sno-Park you must have a permit. You can purchase a day permit for $5 or an annual pass (Nov. 1 - May 30) for $25. They are good at any California, Oregon, Washington, or Idaho Sno-Park.
Near Donner Summit you can be purchase Sno-Park permits at the following places:
Boreal Mountain Resort19455 Bunny Hill Drive, Soda Springs
Placer County Visitor Bureau 13411 Lincoln Way, Auburn
REI Roseville #74, 1148 Galleria Blvd., Roseville
Mountain Recreation, 491 E. Main St., Grass Valley
Tahoe Dave's Skis and Boards, 10200 Donner Pass Rd., Truckee
Mountain Hardware and Sports, 11320 Donner Pass Rd., Truckee
Table Mountain Sports, 1200 Donner Pass Road, Truckee
For a complete list of locations that sell Sno-Park permits in California, see
California Sno-Park Vendors
Permits may also be purchased online for an additional $1.95 at
Sno-Park Permits.
Commercial Snow Play Areas
Soda Springs
Tube Town
Part of Soda Springs Ski Resort is a snow play area called Tube Town. A 390-foot long moving carpet carries children and adults to the top of the hill. Riders slide down special tube lanes.
Children and adults must be 42 inches or taller. Anyone who has purchased a ski and snowboard lift ticket for the day may also use the tube hill at no extra charge. Persons watching at the base of the tube hill or playing in the snow must purchase a $10 Pedestrian Pass.
Hours: 10:00 AM - 4:00 PM (Thursday through Monday, closed most Tuesdays and Wednesdays, except during holiday dates)
Tube Town Online Price: $34 for the whole day ($39 during holiday dates)
Holiday Dates: November 23-26, 2017; December 16, 2017 - January 7, 2018; January 13-15, 2018; February 17-25, 2018.
Planet Kids for Ages 8 and Under
Planet Kids is a great way to introduce small children to skiing and snowboarding along with giving them an opportunity to use other snow play facilities at the special area. They have 2 tube carousels, two moving carpets, a volcano to play and climb on, a mini tubing area, and more.
Planet Kids is found on the west side of the resort. Catch a sleigh ride over from the main lodge. At least one parent must be there to supervise the children. Soda Springs provides a coach to help the children learn the basics of snowboarding and skiing and how to use the various rides.
Hours: 10:00 AM - 4:00 PM, Thursdays through Mondays and on holidays.
Online Price: $34, includes admission for one parent. ($39 during holiday dates) Additional parents must purchase a $10 Pedestrian Pass.
Location: Soda Springs, 1 mile off Interstate 80
Soda Springs
Boreal's Playland Tubing - 2018-19 Season
Boreal Ski Resort's Playland is a tubing hill for the whole family, with 2 moving carpest to carry sliders to the top of the hill. Tubes are provided. The hill is arranged with groomed tubing lanes. Children 42" or less are limited to snow play only
Scheduled 1½-hour sessions (with a capacity limit in each session) make sliding enjoyable for all.
Hours: Midweek 10:00 AM - 4:00 PM
Playland Tubing Hours and Rates
90-minutes sessons beginning at 10:00 AM, 11:30 AM, 1:00 PM, and 2:30 PM
Rates: 90-minute session $24, All-Day $34
Donner Ski Ranch Tubing Hill - 2018-2019
Donner Ski Ranch's Tubing Hill has a moving carpet to carry sliders to the top of the hill. Tubes are provided.
Hours: 10:00 AM - 4:00 PM,
2-hour session price: $28
Location: Take Soda Springs exit off Interstate 80, follow Donner Ski Ranch near Donner Pass.
Donner Ski Ranch Prices
Kingvale Resort Tubing and Sledding Center
(AKA Tubes R Us)
Kingvale Resort operates Tubes-R-Us sliding hill at the Kingvale Exit off Interstate 80 during the winter. When snow cover is sufficient the tube sliding hill is open with a conveyer system to carry tube riders up the hill. Attendants are there to assist.
Parking: $10 per vehicle
Snow Play: $10 per person
Bring your own sliding gear or buy a plastic sled from them ($22).
Dogs are not allowed.
Information: (916) 622-6654
Hours: 10:00 AM - 4:00 PM, Saturdays and Sundays and holidays (parking lot opens at 9 AM)
(Prices subject to change.)
Location: Kingvale Exit off I-80.
Kingvale Resort
Tahoe Donner Snowplay - 2018-19 Season
Tahoe Donner's Snowplay Area is open to the general public. They have established tubing runs along with areas to carve your own run. Your price of admission includes use of their sleds and tubes. Personal sleds are not allowed.
Regular Hours: 9:30 AM - 4:30 PM, Saturdays and Sundays
Fridays 1:30 PM - 4:30 PM
2018/19 Peak Dates: Dec. 22-Jan. 6, Jan. 19-20, Feb. 16-23.
Rates for the general public are about 20% - 30% higher on Peak Dates.
General Public Prices:
Adult (18 - 59) $34, Junior (13 - 17) $27, Child (4-12) $22, Senior (60-69) $22, Ages 3 and under or 70 and older $10.
Greatly reduced prices for Tahoe Donner Association members and their guests; free for members with paid rec fee.
Location: Tahoe Donner Ski area north of Truckee
Tahoe Donner Snowplay Rates and Rules
National Forest Snow Play Areas
Help Keep Snow Play Areas Clean
Trash left behind by a few visitors to snow play areas has created unsightly messes in recent seasons. Please do your part to keep snow play areas clean.
Interstate 80 around Nyack
Nyack, 5,200 feet. Gas station and fast food nearby.
Yuba Gap, 5,700. Take the Yuba Gap exit. No public facilities.
Along Highway 20
Skillman, 4,700 feet. Located 14 miles east of Nevada City. Heavy tree cover.
Omega Rest Area, 5,000 feet. Located 17 miles east of Nevada City. Restrooms. Favorite cross country ski area.
Bear Valley, 4,600 feet. Located 6 miles west of Interstate 80. Open meadow area.
Along Highway 89
Little Truckee Summit, 6,300 feet. Located 17 miles north of Truckee. Groomed trails for skiing, snowmobiling.
Sagehen Summit, 6,400 feet. Located 9 miles north of Truckee. Mainly for cross-country skiing.
Foresthill Area
China Wall, 5,000 feet. Located 14 miles from Foresthill. Plowed parking, restrooms.
Interbay Turn-off, 5,000 feet. 20 miles off Foresthill Road on Mosquito Ridge Road (not always plowed, often icy). Popular for snowshoeing and cross country skiing.
Snow Play on Other Passes
Echo Summit
On nearby Echo Summit (Highway 50) are two great snow play areas - Adventure Mountain and Sierra-at-Tahoe's Blizzard Mountain. Get all the information on Discover Echo Summit.
Carson Pass
On nearby Carson Pass there are four Sno-Parks and lots of little hills just right for sliding. Find the information on Up and Over Carson Pass.
Ebbetts Pass
Ebbetts Pass Scenic Byway (Highway 4) to the south has two Sno-Parks, both near Bear Valley. The Bear Valley Cross Country Ski center has a sliding hill. For casual snow play there are numerous places along Highway 4 to pull over and enjoy the snow. Get details at Ebbetts Pass Adventures.
Sonora Pass
Farther to the south on Sonora Pass is Leland High Sierra Snow-Play area, a developed sliding hill complete with a lodge, sliding equipment, and even lifts. All the information is on Sonora Pass Vacations.