OHV Routes around Donner Summit
The greater Donner Summit region has a wide variety of OHV areas. Many, such as the Prosser Hill and Little Truckee Summit area, can be found north of Truckee along Highway 89. Another popular OHV region is out in the Foresthill Divide area. More OHV spots are found along Highway 20 and Interstate 80, such as the Burlington Motorcycle Trail system around Chalk Bluff and the Fordyce Lake and Eagle Lakes OHV routes.
Prosser Hill and Verdi Peak Area OHV Areas
Prosser Hill OHV Area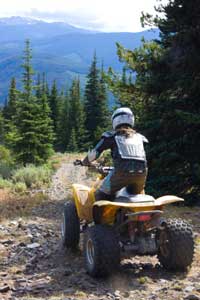 The Prosser Hill OHV staging area is 3.7 miles north of Interstate 80 on Highway 89. This is good area for family riding, both motorcycles and OHVs. The paved staging area has a loading ramp and restrooms. Nearby is the Prosser Hill Motorcycle Trail, a 9 mile loop around Prosser Hill. The trail is challenging with some sharp turns, while providing great views of the area.
A trail heading north across a bridge on Prosser Creek leads to the Sagehen Hills where there are miles of OHV routes (not all routes are shown on our map below).
Prosser Borrow Pit
Prosser Borrow Pit, which is suitable for motorcycles and ATVs, is 2 miles out Prosser Dam Road, south of the reservoir. Take the right fork where the pavement ends and continue another 0.2 miles to the Prosser Pits OHV Area sign. An information bulletin board there provides guidelines for the use of the area. The area is close to private homes and caution should be taken not to trespass on private property.
Billy Hill OHV Route
Billy Hill OHV Route is 4.9 miles north of I-80 on Highway 89. Turn right onto Hobart Mills and follow road 88-6 to Tahoe Timber Trails Campground. Take the left fork and continue 0.3 miles. The area features a loop with several spurs. The route is suitable for 4x4s, ATVs, and motorcycles.
Verdi Peak OHV Routes
Verdi Peak OHV Routes are found north of Boca Reservoir and east of Stampede Reservoir. Take the Hirschdale exit off Interstate 80 and drive north past Boca Reservoir. 3 miles north of I-80 turn right onto Boca Springs Road, then right again onto forest road 72 to Verdi Peak.
The roads in the Verdi Peak area are suitable for 4x4s, ATVs, and motorcycles. By following the road up to Verdi Peak you can gain views of Boca, the Sierra crest, and Reno.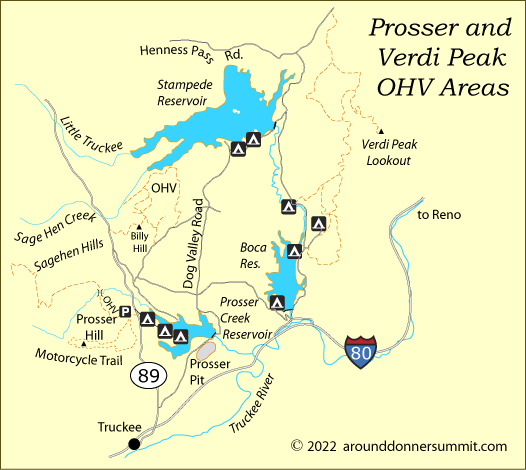 Foresthill OHV Routes
Sugar Pine and Parker Flat OHV Routes
The Sugar Pine and Parker Flat staging areas are northeast of Foresthill. To reach Foresthill take the Foresthill Divide Road out of Auburn for 15 miles. Then continue another 9 miles and turn left onto Sugar Pine Road. Drive 4 miles to Sugar Pine Staging Area. Parker Flat is a quarter mile farther on forest road 24. Both sites have water, RV camping areas, restrooms, loading ramps, and garbage cans. Only Parker Flat is set up for tent camping.
A free publication, American River Ranger District Off Highway Vehicle Guide can be picked up a Tahoe National Forest offices. The guide has a detailed map of the Foresthill Divide area OHV trails. An online PDF version is also available:
Foresthill OHV Trail System Map
The OHV areas around Sugar Pine and Parker Flat spread over miles of forest in every direction. Most trails are designated only for motorcycles. One of those routes connects with the China Wall OHV area.
China Wall OHV Routes
China Wall is located 14 miles east of Foresthill on Foresthill Divide Road. There is a paved parking area, restroom, picnic tables, and a garbage can. RV camping is allowed there.
The China Wall area trails are higher and more difficult than around Sugar Pine and Parker Flat. Because of the narrow trails, they are restricted to motorcycle use only. The trails extend north of China Wall staging area toward Humbug Ridge and southwest across Foresthill Divide Road toward Codfish Point.
Indian Springs OHV Routes off Interstate 80
Pierce OHV Trail
The Pierce, Fordyce, and Eagle Lake trails are all accessed from the Indian Springs OHV Staging Area at the Eagle Lakes exit off Interstate-80. 2.3-mile long Pierce OHV Trail begins at the staging area and leads toward Eagle Lakes and the Fordyce Jeep Trail for 0.6 miles. At the Y take the left road down to Pierce Meadow where many people enjoy setting up camp.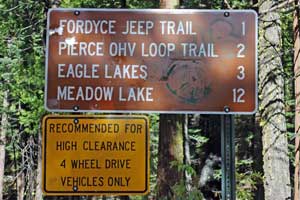 Fordyce Jeep Trail
The 11.9 mile trail cuts off the Pierce OHV Trail to the right and then again to the right off the Eagle Lake Trail. The Fordyce Jeep Trail climbs to Meadow Lake (7,300'), passing Fordyce Lake along the way. This route is recommended for experts only. A spur off the trail connects it with Fordyce Dam Trail.
The California Association of 4WD Clubs, Inc., has planned their annual Sierra Trek along these trails for August 6-9, 2015.
Fordyce Lake Trail #1
The 2.9-mile long Fordyce Lake Trail begins at Meadow Lake Campground and ends at Fordyce Dam OHV. The route is recommended for experts only. A second, easier but longer route leading to Fordyce Lake is shown below as Fordyce Lake Trail #2.
Eagle Lakes OHV Trail
Take the Eagle Lakes exit off Interstate 80. This 0.8 mile route cuts off the Fordyce Jeep Trail at mile 2. It is popular with rock crawling 4x4s. Nearby camping along the route makes it a popular gathering place for 4-wheelers on summer weekends.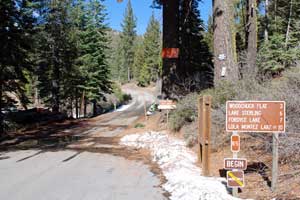 Lola Montez OHV Trail
The Lola Montez OHV Trail is tagged onto the end of Fordyce Lake-Rattlesnake Road (forest road 85-13), 9.5 miles from Cisco Grove. The 0.6-mile Lola Montez OHV Trail leads to Upper Lola Montez Lake. The narrow trail is intended for motorcycle use.
Fordyce Lake Trail #2
Begin on Fordyce Lake-Rattlesnake Road off Hampshire Rocks Road at Cisco Grove. About mile 4 take the left hand turn toward Fordyce Lake. Another mile carries you to 7,200-foot Fordyce Summit. From there the road becomes more difficult, descending almost 1,000 feet in elevation to Fordyce Lake. Once at the lake it is possible to follow a connecting trail to the Fordyce Jeep Trail, but it involves a difficult and sometimes dangerous creek crossing. (Several years ago some 4-wheelers were stranded in the heavily flowing creek and had to be rescued by a CHP helicopter.)
Chalk Bluff Ridge

A network of forest roads suitable for OHV use spread out to the southwest from Highway 20 around the Chalk Bluff Ridge area. See the map at the bottom of the page for a view of the forest roads in the area.
Burlington Motorcycle Trail System
The Burlington Motorcycle Trail System staging area is located on Chalk Bluff Road, 12 miles east of Nevada City, just off Highway 20. The staging area has a vault toilet and a loading ramp. The area includes 50 miles of winding, narrow trials. The trail system is open for motorcycle trail riding. Be aware that the Hallelujah and Pioneer Trails are not designated for motorcycle use.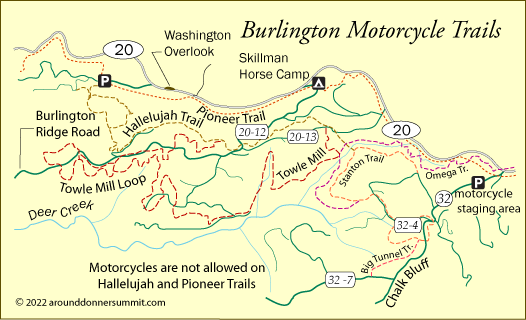 Other Passes - Other OHV Adventures
Echo Summit
At the south end of Lake Tahoe near Echo Summit (Highway 50) is the famous Rubicon Trail. Other OHV areas around Echo Summit include Elkins Flat, Gold Note, and Barrett Jeep Trail.
Read all about these OHV routes on Discover Echo Summit.
Carson Pass
OHV routes along Highway 88 over Carson Pass connect with the Echo Summit roads. Elkins Flat connects with Gold Note. You'll find even more routes around Carson Pass, such as Deer Valley and Beaver Ridge. All the information is at Up and Over Carson Pass.
Ebbetts Pass
Ebbetts Pass and Highway 4 have even more 4-wheeling locations. The Slick Rock route up to Lake Alpine is a great trail. You'll also have fun at Black Springs and O'Neil Creek. To learn more, visit Ebbetts Pass Adventures.
Sonora Pass
Sonora Pass (Highway 108) has several popular OHV areas. The Niagara Creek OHV camp makes a good staging place for exploring Eagle Meadows. Also worth exploring are Hull Creek and Crandall Peak. Find all the information on Sonora Pass Vacations.