Snowmobiling around Donner Summit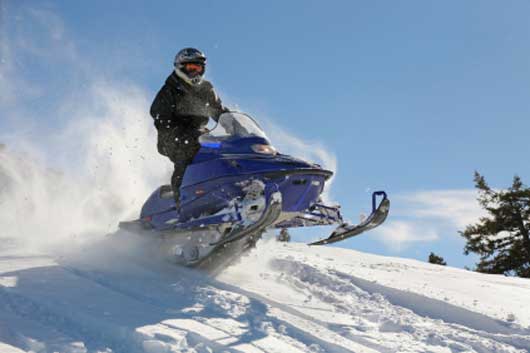 Snowmobiling is popular on Tahoe National Forest lands all around the greater Donner Summit area. One of the most popular places is a broad expanse of forest lands west of Little Truckee Summit of Highway 89 north of Truckee.
Another popular snowmobiling area is out the Foresthill Divide at China Wall. A staging area there allows snowmobilers to head out into the vast area to the east.
Winter Safety
Caution should always be taken when venturing out into the back country on snowmobiles during the winter. Sudden changes in conditions, break-downs, accidents, and avalanches are only some of the dangers that snowmobile drivers must consider. The inclusion of a snowmobile route in this guide does not mean that it is safe under all conditions.
Check with the Forest Service before heading out to be sure conditions are safe on the route you will be using.
Always carry emergency gear and a cell phone.
Let a responsible person know where you are going and when you will be returning.
Travel with at least one other snowmobile.
The Sierra Avalanche Center provides information about avalanche conditions in the Sierra from Yuba Pass in the north to Ebbetts Pass in the south. Visit their website at Sierra Avalanche Center.
A good source of information about winter sports in the Tahoe National Forest is Tahoe National Forest Winter Recreation.
Popular Snowmobiling Areas
Little Truckee Summit

The area west of Little Truckee Summit on Highway 89 north of Truckee is a very popular snowmobiling destination. Two staging areas can be used to access the area, one at Prosser Creek and the other at Little Truckee Summit. There are 110 miles of groomed trails to follow. Trails connect north with the Yuba Pass Sno-Park.
Overnight camping is allowed at the Little Truckee Summit trailhead for up to 7 days from November 15 to April 14. Restrooms are available there, but there is no garbage service or water.
Jackson Meadows Reservoir
Snowmobilers can follow the Jackson Meadows Road (Forest Road 7) west from Little Truckee Summit to Jackson Meadows Lake, a 15 mile journey one way. The road climbs gradually from 6,400 feet to 9,920-foot Henness Pass at mile 10 and then descends to the lake. A number of good loop trips can be added to your excursion.
Meadow Lake Loop
Begin the 33-mile loop to Meadow Lake just west of Webber Lake on the road to Jackson Meadows Reservoir. Continue west to the north end of Jackson Meadows Reservoir. Circle the lake to the west shore and head south past little Catfish Lake. At Church's Camp the route climbs steeply from 6,200 feet to 7,600 feet in about 4 miles. Meadow Lake soon appears. Once beyond the lake cross the southern ridge of Lacey Peak and swing north back to your starting place.
Treasure Mountain Loop
The Treasure Mountain Loop is 28 miles and ranges from 5,700 feet to 7,700 feet. From the Little Truckee Summit staging area, head north on Treasure Mountain Road. 7,000-foot Treasure Mountain stands to the north. Your route takes you along the western flank of the mountain, dropping quickly after mile 7 to cross Bonita Creek. There you pick up Nicholas Mill Road, heading south and climbing steadily to Bonita Saddle. Cross a ridge and begin a gradual descent, soon connecting with Forest Road 7 (Jackson Meadows Reservoir Road) and following it east to your starting point.
Interstate 80 Corridor
Donner Summit
Snowmobiles are not allowed in Castle Valley or Round Valley, but may use the areas west of Andesite Peak and east of Basin and Castle Peak.
Rattlesnake Road
The 7 miles up Rattlesnake Road to Magonigal Summit are groomed. Take the Cisco Grove exit and cross to the north side of the freeway. Turn to the west on Hampshire Rocks Road. Parking is available for $5 a day at the year-round Cisco Grove Campground and RV Park. The trail starts at 5,700 feet and climbs steadily to 7,400 feet.
Foresthill Divide
China Wall
The China Wall staging area on the Foresthill Divide serves as a base for snowmobile routes leading east. Parking and restrooms are available there. Parking on the shoulder of Foresthill Divide Road from October through May is prohibited.
Many snowmobilers enjoy the 14 mile ride out to Robinson Flat and onto other OSV loops along the way. The trails connect via Mosquito Ridge Road with Soda Springs and the Duncan Y routes. Some trails are groomed.
Forest Service Trail Grooming Report
Foresthill OHV Trail System Map
Snowmobiling on Other Passes
Echo Summit
On Echo Summit (Highway 50) leading into South Lake Tahoe some of the best snowmobiling is found in the Crystal Basin not far from Placerville. Find more information on Discover Echo Summit.
Carson Pass
On Carson Pass, a few miles to the south, are four Sno-Parks along with dedicated snowmobiling routes. The Hope Valley area, a favorite with snowmobilers, is just a short drive south from Meyers on Highway 89. Find maps and complete information on Up and Over Carson Pass.
Ebbetts Pass
Not much farther south is the exciting Ebbetts Pass country with more snowmobiling opportunities. From the east side, head out from Markleeville up Highway 4 toward the high country. On the west slope take advantage of SnoParks at Lake Alpine and on the road to Spicer Meadow Reservoir. To learn more, visit Ebbetts Pass Adventures.
Sonora Pass
To the south on Sonora Pass is a great snowmobile route beginning at the Sno-Park near Strawberry and winding up Highway 108 to Kennedy Meadows. Find the information on Sonora Pass Vacations.