Backpacking around Donner Summit
Backpacking around Donner Summit offers hikers a variety of wilderness destinations. The most popular backpacking areas along the Donner Summit corridor are Grouse Ridge (trailheads off Bowman Lake Road), the Pacific Crest Trail (stretching north and south from Donner Summit), Granite Chief Wilderness (west of Squaw Valley and Alpine Meadows), and a number of short hikes with trailheads along Interstate 80.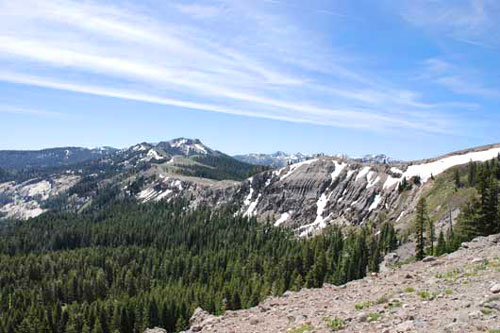 Anderson Peak (center left), the Pacific Crest Trail follows the ridge
Grouse Ridge Destinations
Grouse Ridge is closed to motorized vehicles, but it is not a wilderness area. Lakes abound in the Grouse Ridge area, making it an interesting place for backpackers to explore. Trails connect most of the lakes and none of the hikes is especially difficult. Good maps and a compass or GPS make route finding easier. We offer some of the best Grouse Ridge outings here.
Island Lake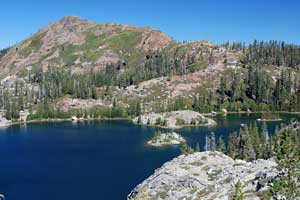 Distance: 1.5 miles one way
Elevation changes: +200 feet (6,675' - 6,875')
Trailhead: Carr Lake

Island Lake is an easy overnight backpack trip, great for introducing children to the activity. Because of the ease of reaching the lake, it can be a popular camping destination during the height of the summer. The trail leads from Carr Lake past Feeley Lake and then up a short climb. At the trail junction turn left. Camping sites can be found all around the lake.
Upper Rock Lake
Distance: 3 miles one way
Elevation changes: +550 feet (6,200' - 7,750')
Trailhead: Lindsey Lakes

This easy hike takes you past a number of nice lakes on your way to Upper Rock Lake. Start at the Lindsey Lakes trailhead and climb a gentle grade to a viewpoint looking down on Culbertson Lake. After a short dip crossing Texas Creek begin a somewhat steeper climb to the Rock lakes. Find a secluded campsite on the southeast shore of Upper Rock Lake.
Glacier Lake
Distance: 5.5 miles one way
Elevation changes: +900 feet (6,700' - 7.600')
Trailhead: Carr Lake

Follow the trail past Feeley Lake and Island Lake, continuing east. At about mile 2.5 you will reach a trail junction (not shown on all maps). The Sand Ridge Trail will take you to Glacier Lake, but stick to the Glacier Lake Trail and save the other route for the trip out if you like. A stiff climb finishes the hike to the Glacier Lake. Campsites are along the northwest side of the lake. Fish for golden trout. Experienced cross country hikers might want to explore Five Lakes Basin to the north.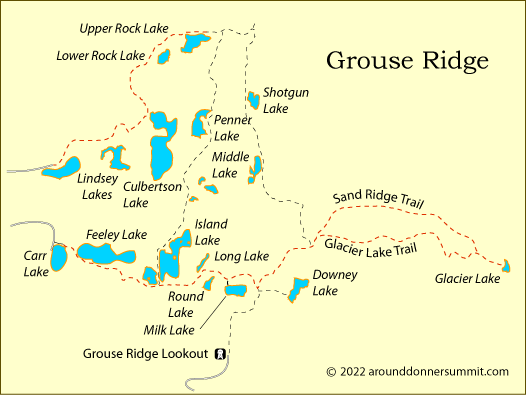 Pacific Crest Trail
Trailhead: Donner Summit (I-80) or Donner Pass (Highway 40)
Northbound (see Southbound below)
Popular Northbound Backopacking Destinations: Paradise Lake (8.5 miles), White Rock Lake (10 miles), Jackson Meadows Reservoir (24 miles)
From Donner Summit, the PCT climbs over Castle Pass with Castle Peak rising to the east. After dipping into Round Valley, the trail ascends to its highest point, 8,400 feet, and then drops into Paradise Valley, a nice stopping place for backpackers (mile 7.5). Near mile 10 the PCT intersects the Mt. Lola Trail. White Rock Lake is just half a mile up the Lola trail. At mile 18 begins a long descent to Jackson Meadows Reservoir (6,000'). Lasier Meadow Horse Camp is only a mile east of the lake.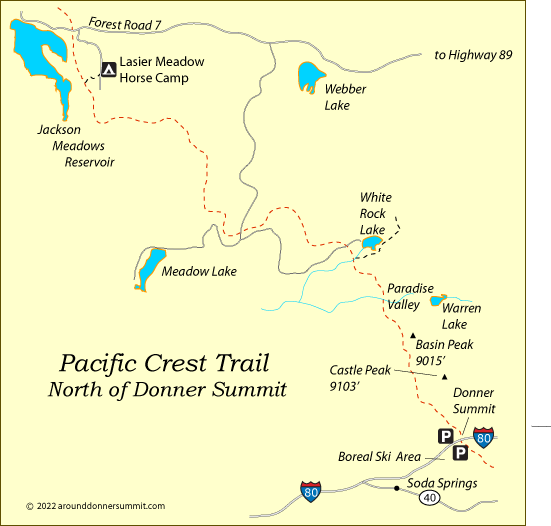 Southbound
Popular Southbound Backpacking Destinations: North Fork American River (9.5 miles), Five Lakes (16 miles)

If heading south on the PCT, make Donner Pass on old Highway 40 your starting place. Carry lots of water, because it's a long way to the first reliable stream. The trail begins immediately with steep switchbacks up to a ridge by Mount Judah. Sugar Bowl Ski Area is off to the west. Once above the switchbacks, the trail is much easier, climbing gradually up past Mount Lincoln and along the ridge to Anderson Peak (mile 6). The trail follows the ridge to distinctive Tinkers Knob and then makes a 1,200-foot descent to the American River. Then the PCT climbs to Granite Chief, enters the Granite Chief Wilderness, and drops down to Five Lakes (mile 16).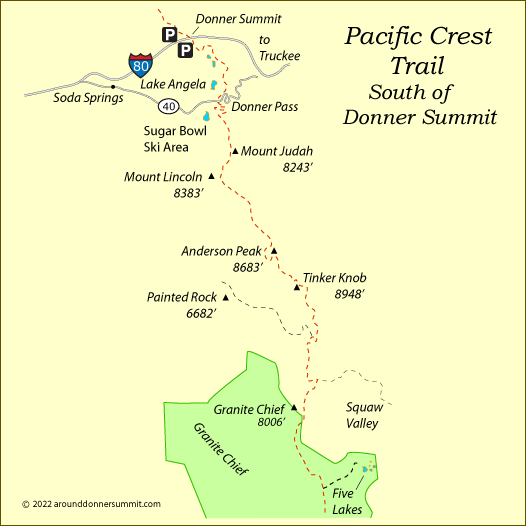 Granite Chief Wilderness
The 25,680-acre Granite Chief Wilderness lies west of Lake Tahoe, north of Desolation Wilderness. The area is known for its spectacular 9000-foot granite peaks, lush valleys, and secluded trails. The easiest access for backpacking into the wilderness area is via the Squaw Valley Aerial Tram, saving nearly 2000 feet of vertical climbing and 3½ miles of trail.
Round Trip Tram Rates: Adults (23-64) $29, Young Adults (13-22) $22, Children (5-12) $10, Seniors (65+) $22
At the top of the Tram is High Camp with ice skating, a swimming pool and hot tub, a fine dining restaurant, and an Olympic Museum.
Five Lakes
Distance: 2 miles one way
Elevation changes: +1,100 feet (6,500' - 7,600')
Trailhead: Alpine Meadows
Because of their ease of access, Five Lakes are a popular destination for weekend backpackers. The trail leading from the community of Alpine Meadows near the ski resort climbs steadily over 1,000 feet to reach the lakes in only two miles of trail.
Whiskey Creek
Distance: 4 miles one way
Elevation changes: +600 feet and -1,500 feet (8,100' - 8,700' - 7,200')
Trailhead: Top of the Squaw Valley Aerial Tram
From the top of the Aerial Tram hike up to the top of the ridge and cross into the Granite Chief Wilderness. Head south on the Pacific Crest Trail, descending quickly to Whiskey Creek. Water is scarce along this portion of the PCT, so there will likely be other campers in the area.
Using Whiskey Creek as a backpacking base camp, set out on the day hike, heading south on the PCT. You will soon be rewarded with spectacular views of Lake Tahoe. The trail earns its name here, following literally along the crest of the Sierra for over 6 miles.
Backpacking Off Interstate 80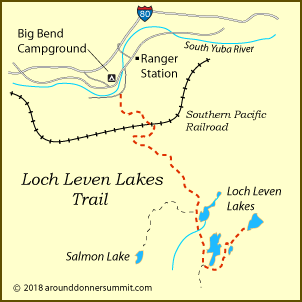 Loch Leven Lakes*
Distance: 3.5 miles one way to High Loch Leven
Elevation changes: +1,200 feet (5,700' - 6,900')
Trailhead: Big Bend near Cisco Grove off Interstate 80
Near the beginning this popular trail can be difficult to follow, but ducks help mark the way. Shoes with good traction are an advantage on some sections of glaciated granite.
The trail climbs to a low ridge and then dips to a bridge crossing of a small creek before ascending again to cross the railroad tracks. After the tracks comes a steep, rugged uphill stretch. Then at 2.3 miles the trail levels out and winds among the lakes.
Middle Loch Leven (shown below) is considered the most scenic of the lakes. Good backpacking campsites are found at all three lakes, with the most sites at High Loch Leven.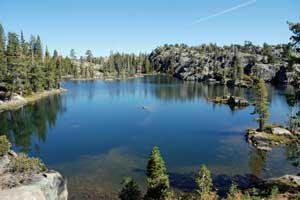 Nearby Salmon Lake makes an easy side trip. The trail leads west from the south end of Lower Loch Leven. Camping is possible at Salmon Lake. The best site is to your left as you arrive at the lake.
Another worthwhile side trip is out to Cherry Point, two miles south of Middle Loch Leven. Take the Cherry Point trail for a mile and then divert cross-country onto the ridge crest, following it south to its point at 8,726'. From there you look down on Granite Creek and the North Fork of the American River Canyon.
Warren Lake
Distance: 6.5 miles one way
Elevation changes: +1,400 feet and -1,400 feet (7,200' - 8,600' - 7,200')
Trailhead: Pacific Crest Trail trailhead at Donner Summit
After a steady climb the Warren Lake trail carries you past a great vista point overlooking Frog Lake and a panorama of Nevada countryside to the east. Then the trail descends as much as you have climbed to quiet Warren Lake nestled deep in a cirque below 9,000-foot Basin Peak.
Lower Lola Montez Lake
Distance: 3.5 miles one way
Elevation changes: +500 feet (6,600' - 7,100')
Trailhead: Sherritt Road off Interstate 80 at Soda Springs exit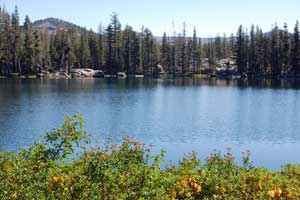 Lower Lola Montez Lake makes a great overnight backpacking destination. It's a good place to introduce children to backpacking. The pretty little lake makes a nice camping spot with rewarding fishing for rainbow trout. The trail passes through some private property, so you will want to stay on the designated route. In places you will be on dirt road.
Other Passes - Other Backpacking Trails
Echo Summit
At the south end of Lake Tahoe, Echo Summit (Highway 50) is the gateway to the Desolation Wilderness. For a great multi-day trip, consider hiking from Echo Summit to Donner Summit on the Pacific Crest Trail.
For great backpacking ideas around Echo Summit, see Discover Echo Summit.
Carson Pass
Just to the south Carson Pass (Highway 88) offers more great backpacking trails. Follow the Pacific Crest Trail south to Carson Pass or take off from Carson Pass trailheads into the Mokelumne Wilderness. For the best backpacking routes, see Up and Over Carson Pass.
Ebbetts Pass
Ebbetts Pass, just south of Carson Pass, has a number of enjoyable backpacking routes. From trailheads along Highway 4 you can strike out into the Carson-Iceberg Wilderness. To learn more, visit our sister website Ebbetts Pass Adventures.
Sonora Pass
Sonora Pass (Highway 108), located farther to the south and just north of Yosemite, is famous for its backpacking in the Emigrant Wilderness and the Hoover Wilderness. For backpacking ideas on Sonora Pass, take a look at our sister website, Sonora Pass Vacations.