Soda Springs
Family oriented Soda Springs Ski Resort is located at Soda Springs, just off Interstate 80. It is a popular place for families with small children and/or beginning skiers and boarders to learn the basics of the sports, avoid the high prices and crowds of some of the fancier ski resorts, and spend an enjoyable day in the snow. Along with its ski lifts, Soda Springs has a tubing hill and a special area called Planet Kids.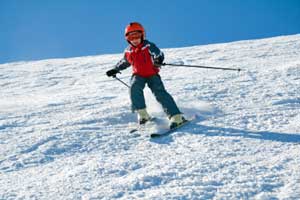 Soda Springs has two chairlifts. The base elevation is 6,700 feet and the top of the ski slope is at 7,300 feet. Their new Kids X Park offers bumps and little jumps.
The resort operates on a limited schedule, but its prices are reasonable. Soda Springs is a sister resort with nearby Boreal ski area.
Lift Operation Hours: 10:00 AM - 4:00 PM
Operating Days: Thursday - Monday (closed most Tuesdays and Wednesdays, but open Tuesdays and Wednesdays during holidays)
Holiday Dates: November 24-27, 2016; December 17, 2016 - January 8, 2017; January 14-16, 2017; February 18-26, 2017.
Soda Springs
Soda Springs Lift Tickets - 2017-18 Season
Tickets allow purchasers to use both the ski lifts and the tubing area.
Age
Price
1Participants must be at least 42 inches tall for the tubing tows. Acess is included with purchase of ski or snowboarding lift ticket.
2Children 8 years old and younger, includes 1 free parent pass. Additional parent/guardian pass $10.
$10 Pedestrian Pass allows access to the base portion of the ski and tubing area as an observer.
Prices subject to change.
Adult 18 and older
$50
Teen 13 - 17
$45
Child 6 - 12
$40
Child 5 and Under
$5
Tubing Hill Only, all ages1
$
Snowplay
$
Planet Kids (ages 8 & Under), pass includes 1 free parent pass2
$
Pedestrian (access to base areas only)
$10
Season Passes for 2017 - 2018
Pass
Price
1 Additional children may be added to Family Pass for $49 each.
Prices subject to change.
Adult 24 - 59
$229
Young Adult 18 - 23
$229
Teens 13-17
$169
Child 5 - 12
$129
Child 4 & Under
$29
Family Pass - 2 adults + 2 children 12 and under 1
$449
Seniors 60+
$49
Soda Springs Ski and Snowboard Rentals - 2017-18
Rental Package
Adult (Age 13 +)
Children (Age 4 - 12)
Ski and Snowboard packages are $6 higher during holiday dates: November 24-27, 2016; December 17, 2016 - January 8, 2017; January 14-16, 2017; February 18-26, 2017.
Prices subject to change.
Skis, Boots, & Poles
$41
$31
Snowboard and Boots
$41
$31
Helmet
$10
Ski or snowboard boots only
$20
Soda Springs Ski and Snowboard Lessons - 2017-18
Beginner Package Lessons - Ages 8 and Older
Beginner Package Lesson includes a limited-access lift ticket good on Lion's Head lift, a 2-hour lesson, and equipment rental. Helmet required ($10 rental available). Lesson times: 11:00 AM to 1:00 PM or 2:00 PM to 4:00 PM
Price: $79
Planet Kids - Ages 8 and Under
A Planet Kids ticket includes access to skiing and snowboarding, and tubing, along with use of 2 moving carpets, 2 tube carousels, sleigh rides and more. Ticket includes rental skis, snowboards, helmets, and boots. A parent or guardian must be there (free of charge) to supervise their child.
Fees: 1 Child (8 and Under) + 1 parent/guardian: $34
Additional parents need to purchase a $10 Pedestrian Pass.
Soda Springs provides a coach for a 30 minute private lesson for your child. Lessons are offered every 30 minutes from 10:00 AM to 3:30 PM.
30-Minute Private Lesson: $34 ($39 during holiday dates) (in addition to the Planet Kids fee)
Private Lessons
Private Lessons are available for all skiers and boarders ages 3 and older.
Soda Springs Facilities
The new million-dollar West Meadow Lodge is open for 2014-15. While it serves Plant Kids primarily, it also has additional rental, ticket, and food services.
Main Lodge - includes Rental Shop