Camping along the Broad
Interstate 80 Corridor
Forest Service and private campgrounds are spread along the Interstate 80 corridor from Colfax to beyond Truckee, north to Jackson Meadow Lake and south along the Foresthill Road. Many are easily accessible right off I-80. The more secluded campgrounds are found out a variety of side roads. We show them all.
Cycling the Roads and
Mountain Biking the Trails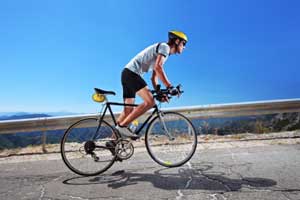 Cyclers find miles of roads, including old Highway 40 and the rolling terrain along Highway 89 near Truckee.
Mountain Bikers enjoy great trails around Prosser Creek Reservoir, up on Donner Summit, over in the Grouse Ridge area, and along the Pioneer Trail.
Backpacking and Day Hiking
Donner Summit is home to all kinds of outdoor recreation. Backpackers set off to explore all the lakes in the Grouse Ridge area or out the Pacific Crest Trail. Day Hikers enjoy treks to places such as Castle Peak or around Donner Lake.
Horseback Riding
Horseback riders set off in all directions, taking advantage of a number of Horse Camps such as Skillman and Little Lasier Meadow. Trail rides lead into Grouse Ridge, up and down the Pacific Crest Trail, along the Pioneer Trail, or to more adventurous places like the Painted Rock Trail or the Tevis Cup route.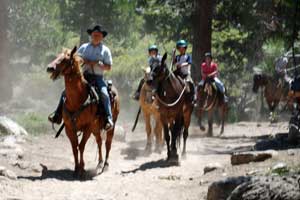 OHV Routes
Off road enthusiasts have lots of designated areas to explore, from the miles of road and trail around Prosser Hills to the expanse of forest trails out Foresthill Divide. Another popular area is around Fordyce Lake and Eagle Lakes.

mobile site
A Scenic Drive Over Donner Summit

With two highways crossing Donner Summit, motorists can choose between speedy Interstate 80 or the slower, more scenic route of old Highway 40. Both have their attractions. Interstate 80 climbs steadily up the western slope passing turnoffs to historic towns such as Colfax, Dutch Flat, and Truckee. The views from I-80 down the eastern side past Donner Lake are dramatic. A turnout part way down the pass offers a great place to look out over Donner Lake and back up toward the summit with views of the transcontinental railroad tunnels and old Highway 40.
Old Highway 40 is the more scenic road, winding through the gold rush era towns from Colfax to Baxter. Beyond Baxter motorists have to use I-80 for a short span up to Cisco Grove where they can pick up Highway 40 once again. From there, you can drive all the way up to Donner Pass and descend the spectacular eastern slope, crossing Rainbow Bridge and winding down to Truckee. For more details about the route, see our page all about Old Highway 40.
Winter on Donner Summit
Donner Summit has five alpine ski resorts, miles of cross country skiing, and numerous snow play areas.
Sugar Bowl - miles of runs with modern lifts leading to four summits. Sugar Bowl has long been the premier ski area of Donner Summit
Boreal - located right at Donner Summit off Interstate 80, Boreal draws in skiers and snowboarders of all ages. Often it is the first resort to open.
Donner Ski Ranch - located at Soda Springs just up the road from Sugar Bowl, Donner Ski Ranch has long been a favorite destination for area skiers and boarders
Soda Springs - A favorite family ski resort. Several children areas.
Tahoe Donner - Located in the Tahoe Donner development north of Truckee, open to the general public.
Royal Gorge - the largest cross country ski area in the West, now operated by Sugar Bowl. Located at Soda Springs
Tahoe Donner - miles and miles of groomed cross country ski trails over varied terrain. Located north of Truckee.
Soda Springs - Tube Town and Planet Kids. Tubing and a moving carpet to the top of the hill for everyone and Planet Kids snow activities for children 8 and under.
Boreal's Playland Tubing - a moving carpet carries tubers to the top of the hill next to the ski area.
Kingvale's Tubes-R-Us - a sliding hill with a low admission price.
Tahoe Donner Snowplay - tubing runs open to the general public, sleds and tubes included in price of admission. located north of Truckee.
Boating

Boating is popular all up and down Donner Summit from the foothill lakes such as Rollins and Scotts Flat up the pass to places like Spaulding and Lake Valley and on across to the eastern side of the pass. There you'll find lakes like Donner, Boca, Stampede, and French Meadows. Those interested in larger lakes at lower elevations such as Folsom Lake and Bullards Bar can find more information on California's Greatest Lakes.
Fishing
Fishing is spectacular all around Donner Summit, especially in the famous Truckee River and in some of the bigger reservoirs such as Stampede and Spaulding. With so many destinations available to anglers, it is hard to choose. Our pages cover the small lakes like Fuller and Penner, mountains streams like Sagehen and the Little Truckee, and the depths of Donner Lake.

For even more fishing destinations around Nevada County, see Dave's Sierra Fishing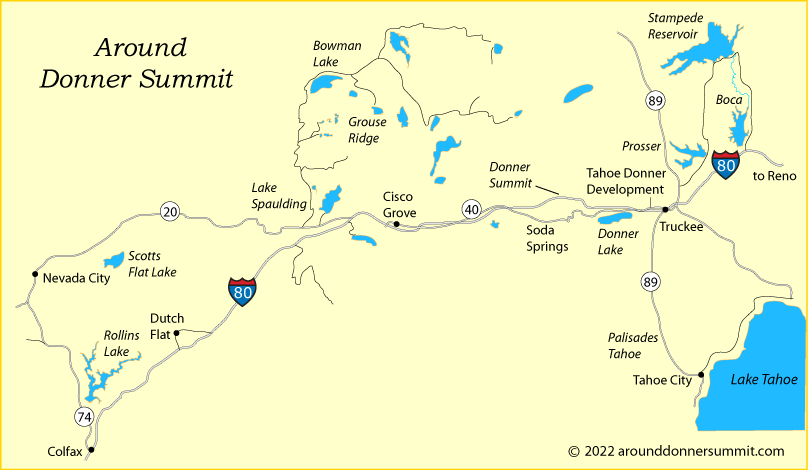 Other Sierra Passes - Other Adventures
Echo Summit
At the south end of Lake Tahoe, Echo Summit (Highway 50) is the gateway to the Desolation Wilderness. Up and down the pass are opportunities for hiking, fishing, and boating. The exciting Crystal Basin is filled with lakes, campgrounds, and trails.
Read all about Echo Summit on Discover Echo Summit.
Carson Pass
Just a short jaunt to the south Carson Pass (Highway 88) has many opportunities for adventure. Silver Lake and Caples Lake draw fishermen and hikers every summer. Beautiful Hope Valley is popular with snowmobilers and cross country skiers in the winter, while in the summer it is a favorite destination for fly fishermen, photographers, painters, and bird watchers. Learn all about Carson Pass on Up and Over Carson Pass.
Ebbetts Pass
Only a few miles to the south, Ebbetts Pass Scenic Byway (Highway 4) offers mountain lakes, winter skiing, wonderful camping, and a multitude of other outdoor recreation opportunities. You may want to consider looking through our sister website Ebbetts Pass Adventures.
Sonora Pass
A little farther to the south is beautiful Sonora Pass (Highway 108) with Dodge Ridge Ski Resort, Pinecrest Lake, Kennedy Meadows, and dozens of other great destinations and recreation opportunities. Take a look at another of our sister websites, Sonora Pass Vacations.