Around Donner Summit
Spreading north and south of Interstate 80 over Donner Summit is a wondrous expanse of mountains and lakes, valleys and rivers, campgrounds, trails, and forests. We bring all the treasures of the Donner Summit corridor to you, covering everything from Colfax to Truckee.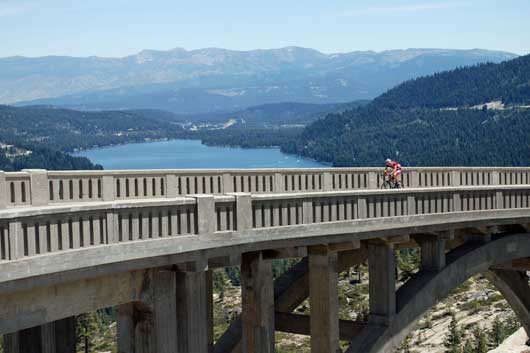 Current Conditions
Keep up to date on Current Conditions on the pass. Find the latest weather, plus links to chain controls, highway conditions, and snow reports. Discover which campgrounds are open or closed.
Wondrous Destinations
Explore the history and the natural beauty around Donner Summit. Walk in the footsteps of 19th century pionerrs along the old Donner Emigrant Trail, picnic among Giant Sequoias, explore old tunnels from the transcontinental railroad, and travel historic Highway 40. Our detailed maps show all the locations.
The Best Camping
Jackson Meadows
Rollins Lake
Bowman Lake
Sugar Pine Reservoir
Lake Valley
And more than
60 others . . .
Campground Information
For every campground, find all the details you need for an enjoyable trip: facilities, camping fees, reservation links, nearby recreation, and custom maps of the area.
Want to get away from the crowds? Discover the tranquility of dispersed camping, available in many parts of the Tahoe National Forest.
Recreation
Scenic Day Hikes
Backpacking Adventures
Exhilarating OHV routes
The Best Fishing Spots
Great Boating Lakes
Horseback Riding Trails
And much more . . .
Outdoor Recreation
Summer or winter, Around Donner Summit covers all the popular outdoor recreation activities. The best snow play spots, scenic wilderness areas, OHV trails and roads, the most enjoyable day hikes, complete with custom maps, boating information from launch facilities to boat rentals, and amazing fishing destinations for fly fishing or trolling. Plus, we have everything else from mountain biking to golf.
Lodging
Check our listings from vacation cabin rentals, lodges and resorts, bed and breakfasts, and motels. We have them all.
Summer Adventures on Around Donner Summit
Backpacking and Day Hiking
The mountains and forests around Donner Summit offer a variety of interesting trails for hikers to enjoy. Backpackers and day hikers set off to explore all the lakes in the Grouse Ridge area or along the Pacific Crest Trail. Day Hikers enjoy places such as Castle Peak or around Donner Lake.
Boating
Boating is popular all up and down Donner Summit from the foothill lakes such as Rollins and Scotts Flat up the pass to places like Spaulding and Lake Valley and on across to the eastern side of the pass. There you'll find lakes like Donner, Boca, Stampede, and French Meadows.

Those interested in larger lakes at lower elevations such as Folsom Lake and Bullards Bar can find more information on California's Greatest Lakes.
Fishing
Fishing is spectacular all around Donner Summit, especially in the famous Truckee River and in some of the bigger reservoirs such as Stampede and Spaulding. With so many destinations available to anglers, it is hard to choose. Our pages cover the small lakes like Fuller and Penner, mountains streams like Sagehen and the Little Truckee, and the depths of Donner Lake.

For even more fishing destinations around Nevada County, see Dave's Sierra Fishing